Important Information/Dates for families: 
The Irving Newspaper is Back!  Click HERE to take a look.
The Tom Rutz Memorial Food Drive: Nov. 5-9. Items will be collected in classrooms all week long and picked up by the Lincoln Food Bank on 

Friday, Nov 9

 at 1:00 p.m. Students can earn 1 hour of ICOR service time by bringing 10 items (1/2 hour for 5 items, etc.).

Please remember the Irving Library when you do your holiday preparations.  We collect the BoxTops for Education found on many products to supplement our ebook budget.  Just turn them into the office and they will get them to us.  

If you, or anyone you know, needs assistance during the holidays, a list of "holiday programs" offered in Lincoln can be found HERE.
Community Awareness Series: Promoting Healthy Behaviors

The Impact of Stress & Anxiety on our Youth LHS Theatre Nov. 13, 2018 @ 6:30 pm More information can be found HERE.

It's time for ICOR!!!  Irving Community Outreach is the ONLY fundraiser Irving does. It runs from  October 29-November 16. Students will be bringing home information on Oct. 26.

Irving Food Market: a once-per-month mobile distribution where the Food Bank of Lincoln will bring shelf stable food, fresh produce, bread and bakery items to Irving and set up for families to select what is needed.  All families are welcome, no need to register beforehand.  The next time for this will be immediately following the school day on December 3, 2018.  Click HERE for future dates. 
Need some Irving apparel?  Check out the great Irving gear to show your school spirit HERE.
8th graders, if you missed the First Steps to High School Information Night, the link to the video can be found HERE

ATTENTION 8th grade students and Families: High School Information Nights have been scheduled:

Tuesday, January 8, 2019              East High School                     6:30 p.m.

Wednesday, January 9, 2019         Northeast High School          6:30 p.m.  

Thursday, January 10, 2019          Southwest High School          6:30 p.m.

Monday, January 14, 2019            Southeast High School           6:30 p.m.

Tuesday, January 15, 2019            North Star High School           6:30 p.m.

Tuesday, January 22, 2019            Lincoln High School                6:30 p.m.

"The Latina Leaders of Irving combined with the Latina Leaders of Lefler Middle school attended a visit to the University of Nebraska-Lincoln city campus. They got to spend time in the universities multicultural center and meet the president of the Office of Academic Success and Intercultural Services (OASIS), a program that enhances student success by promoting academic excellence, diversity awareness, and social engagement. They learned about the many different career paths, clubs and extra-curricular opportunities that college has to offer. The girls toured the city campus and ended their day with a visit inside of Memorial Stadium and a grand lunch in the dining hall!"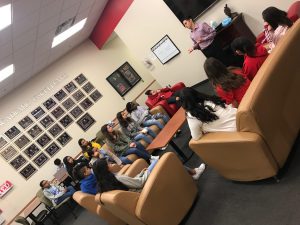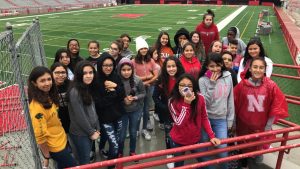 ---
From the Principal:
Welcome to the Irving Middle School website. It is my privilege to serve the Irving Middle School community as principal. Here at Irving, it is our mission to develop personal responsibility, ethical behaviors, cultural awareness, life-long learning and academic excellence within our students. Our mission is accomplished through the tireless work of talented educators I am proud to work alongside.
At Irving, our staff work collaboratively on interdisciplinary teams to ensure the highest quality education is provided to every student. It is our steadfast belief that all students can learn and achieve to their full potential. Additionally, Irving students are provided with community outreach opportunities to develop cultural awareness and leadership qualities within each child.
No child's education is fully realized without a successful partnership between school and home. I invite you to use this site as a communication tool to stay involved with your child's experience at Irving.
I look forward to partnering with you through the school year.
Sincerely,
Jason Shanahan
Principal